Brown Center for Students of Color
Gather
On behalf of the entire Brown Center for Students Color (BCSC) team, we are pleased to announce an upcoming renovation to Partridge Hall, the home of the BCSC!
Gather
On behalf of the entire Brown Center for Students Color (BCSC) team, we are pleased to announce an upcoming renovation to Partridge Hall, the home of the BCSC!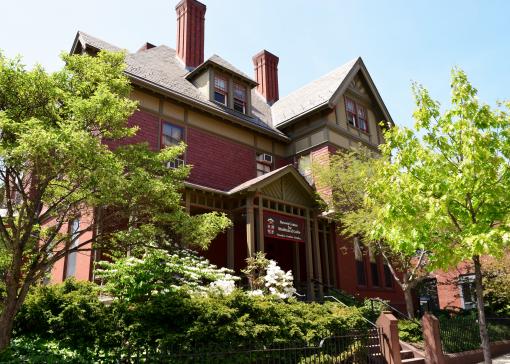 For everyone's safety and care the BCSC is currently only accessible to Brown ID holders during our regular business hours: Monday-Friday 9:00 a.m.-5:00 p.m until May 31st, 2023.
After-Hours Card Access
After-hours card access is given to BCSC administrative and student staff, MPC Peer Counselors, and other Brown University members who have received prior approval from the BCSC to use the building outside of regular business hours.
Student Groups
Student groups may reserve only the formal lounge through 25live, our other BCSC spaces cannot be reserved by student groups. Please visit https://25live.collegenet.com/pro/brown for room reservations. For weekend student group reservations via 25 Live, we require special training on how to use the space. We will have the Campus Public Safety team notified to unlock and lock the space. Restrictions will prohibit groups from propping open doors or letting uninvited visitors into the space.
Questions
For questions about the BCSC's after-hours card access and building policies, please email bcsc@brown.edu.
Renovation of the first floor of Partridge Hall will start in early June 2022 with a completion goal of August 2022. As a result, the BCSC will be closed for renovations and not accessible to the greater campus community starting June 1, 2022 through August 22, 2022. (Note: Reopening dates are contingent on construction timelines)
As the legacy of the Third World Center (TWC) and the BCSC approaches our 50th Anniversary in 2026, our vision includes overall enhancements of The Center programs, support services, and student-facing spaces.
It is our hope that the first floor renovations will not only give our beloved Partridge Hall a burst of enhancements to our physical space but also increase the variety of ways our students can gather as a community. For example, the renovations will include transforming our current classroom space into a multipurpose room/informal student lounge which will allow the use of the entire floor for small physical, mental, and emotional health-related activities such as meditation or yoga; an opportunity to expand our artistic collaborations such as hosting small art shows; or for "just-for-fun" social engagements like group wellness activities and game nights on a variety of bean-bags and comfy floor cushions.
Additionally, we are excited to reimagine and finally utilize our outdoor space. For example, our rear garden and rear patio area will have enough seating for 8 - 10 students to socialize outdoors under a nice umbrella to hold interesting conversations, grab a bite to eat with friends, or help us till the soil of our new outside garden area. These are only a few of the new ways we envision utilizing our soon-to-be newly renovated first floor of Partridge Hall.
The scope of the 2022 renovation is comprised only of phase one of the first floor which will include the following areas:
Interior Renovations
Entry and hallway
Formal Lounge
Main office/Staff office space
Multipurpose/Classroom/Informal lounge
Kitchenette/Restrooms
Culturally relevant art
Furniture/Floors
Exterior Renovations
Accessibility to first-floor/lift renewal 
Front porch area
Front garden area  
Rear garden area  
Rear patio area  
This Spring 2022, the BCSC Student Advisory Board (SAB) -15 student leaders representing more than 60 BCSC students- provided input regarding the above areas. SAB members were instrumental in the final renovations decisions and selections ensuring that both undergraduate and graduate student perspectives were central to finalizing each renovation detail. Once all renovations are complete, the entire BCSC Team (Anne Maire, Frank, Sage, and Lehidy) look forward to sharing our renovated first floor and exterior spaces with our current engaged students of color, supportive Brown campus community, and dedicated alumni in a Grand Re-Opening in the Fall of 2022.  
These interior and exterior renovations are made possible by the generous financial support of Brown University's Office of the President. We would also like to thank Eric Estes, Vice President for Campus Life, for his continued support of these forthcoming renewals.
Our Best,
Vincent T. Harris, Ph.D. (he, him, his, brother)
Associate Dean and Director, Brown Center for Students of Color
Loc V. Truong, Ed.D. (he/him)
Assistant Vice President for Campus Life Engagement